The north side of our front yard is a certified
National Wildlife Federation Backyard Habitat
. Really! We have a certificate! It is so much fun to see all of the critters that stop by for a visit. I'm beginning a new series of posts to show you our Garden Guests.
This little fellow is a Chickadee. If you would like to attract them to your garden, I recommend that you add a woodpecker feeder. See how much he loves it! Another option is a regular black oil sunflower seed feeder.
I'd like to invite you to some parties! First of all don't forget to come back RIGHT HERE for Tuesdays with a Twist! Link up just about anything you like! (Family friendly, of course!)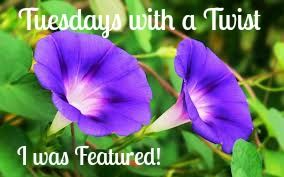 Another one is at
Inspiration Café
on Monday, September 16. It's for anything you've been doing for the sweet kiddos in your life!
A favorite weekly party for children is at
We Made That
every Wednesday!
And now for some bloggin' music... Songbird by Fleetwood Mac featuring Christine McVie
I hope your week is lovely!
;-) -Marci