The last Friday of each month, I am so very honored to be a contributor for
Inspiration Cafe'.
Will you please join me there?
It's such a fun site! Today, I am sharing a post about decorating gourds. It's that time of year, right? Gourds are such a beautiful option for Fall Décor. They look great alongside pumpkins or can stand alone.
My sweet friend, Angie of
God's Growing Garden
also decorates gourds. It's kind of funny! Our friendship began over gourd decorating chit chat! Now we co host The Great Blog Train together! I hope you can hop on board the first Wednesday of each month!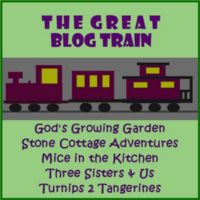 With Angie's permission, I get to show you some of her amazing gourd creations!
I think this smiling kitty is my favorite! Isn't she adorable?!
If you are not already decorating gourds, beware! It is ridiculously fun! Some might say downright addictive! Right, Angie?
Thanks again to
Inspiration Cafe'.
I love sending my little contribution each month!
;-) -Marci