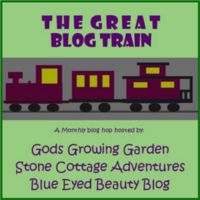 A monthly blog hop departing from your online train station on the first Wednesday of every month!
The railway and trains helped build North America and brought people together.We want this blog hop to bring people together – we designed it so that nobody will be left out.
Don't worry if you are late boarding this train.Even the caboose will be chugging down the tracks to new relationships because the very last entry will receive a feature next month! Along with the caboose, I'll be choosing a blog to feature, too!
Chugga chugga! Chugga chugga! Toot toot!
April's caboose and featured blog happens to be
Judy H-J's Thoughts - A Twinless Twin. Jamaican

Freelance

writer

on a healing journey after facing loss. Here I share memories, hobbies, interests, pictures and much more.
My featured blog is:
Domesblissity
I'm an older SAHM of two, a girl 8 and a boy 6, who loves to cook. I love life, my kids, my dogs and take one day at a time. (Anne has a linky party on Thursdays!)
1.
In order to link up to the "The Great Blog Train" you must first connect to the Locomotive.Please follow all 3 of the hosts by at least one of the following options: GFC, Twitter, Pinterest, Bloglovin, Linky, Networked Blogs or Facebook.

Then leave us a comment telling us how you followed so that we can come back & visit you!The 3 hostesses are:
Link up your family friendly blog to the train (please only use your homepage – not a specific post)
3.
And last but not least connect to the boxcar in front of you (the person who entered before you).Stop by that person's blog, have a look around and leave a comment letting them know that you stopped in!
Now you have your ticket and are ready to board the rest of the train! – If you want to visit other boxcars you may do so now!
OPTIONAL:You may grab our "Great Blog Train" button and post it on your sidebar or link page.

Also, feel free to spread the word – the more the merrier!