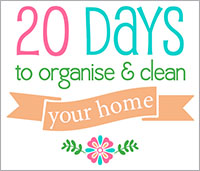 ...And WOW!
Katrina gives lots of direction on what to do each day and even allows weekends free!
The 20 Day instruction list actually ended a few days ago. I stumbled across the challenge on Day 6 so my chore list had a little different timing!
What is my proudest achievement of the last week?
Thread!
Most of my craft room is pretty well organized, but the thread was in three shoe boxes all tangled together.
How does one spool lasso three others?
There were two silverware organizers and a bolt organizer in the "To Be Donated" box retrieved from tidying the kitchen. They don't match at all but are about the same size. See how nicely they stack together?
Organized, color coded thread. Yep! It brings a happy tear to my eye! ;-)
Thanks again,
Katrina
at
The Organised Housewife
! What a wonderful challenge!
;-) -Marci