"There is no exercise better for the heart than reaching down and lifting people up.". – John Holmes.
Thanks to blogging deadlines, I actually complete projects! Otherwise, I think it would all be dreams and procrastination! ;-)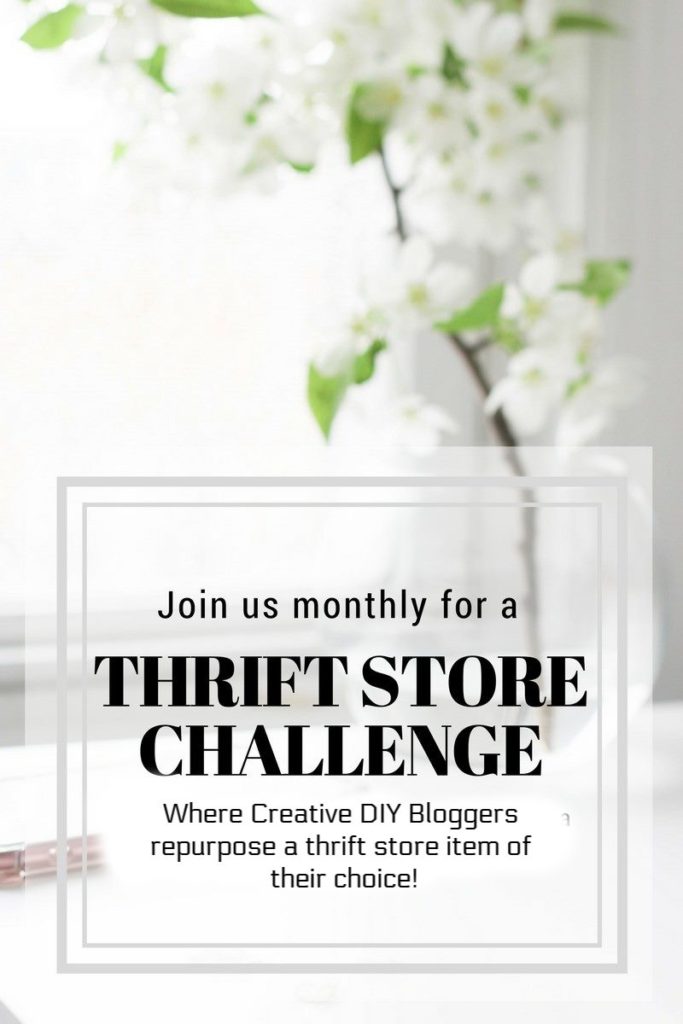 The Rules:
Upcycle an item(s) from a thrift store, resale store, or garage sale into a new piece of decor.
There's no monthly theme.
There's no budget to stick to.
Meet the Hosts
Angela | Simply Beautiful By Angela - Beverly | Across the Blvd
Marci | Stone Cottage Adventures
My find is this sturdy little step stool! I'm guessing it was for a boy's bedroom or bathroom as it's painted metallic blue with what used to be a white seat. It looks like it has been loved very thoroughly, helping children step up to things just a tiny bit out of their reach! I can just see a see a cute little guy racing into his home with muddy shoes to wash hands before dinner. He's probably tall and handsome now.
For the vintage step stool makeover, my first thought was to remove and replace the seat, but that seems like it would take lots of time and sweat. Plan B is painting everything. ;-) My darling find was gently cleaned.
Taping off the woven ribbon as best I could, flat black spray paint was attempted outside to be safe from those fumes. Here we are after one coat on the top, getting ready to spray the underside. After drying completely a couple of coats of spray paint were applied from both the top and the bottom. That was the easy part.
The thick material used for weaving the seat was very absorbent and surprisingly difficult to cover. Multiple coats of white acrylic paint were needed and there was still some oily substance that kept bleeding through. Even using a sponge brush, it took some patience to keep adding another layer of paint after it had dried.
Black and white is such a classic color combination. I didn't want the ribbon to be grimy looking.
Here's the new step stool, still sturdy, ready to offer a little help for more sweet children.
;-) -Marci
Our Thrift Store Upcycle group of bloggers is always looking to expand -- and we need your help! Why not consider joining in our thrift store upcycle challenge on the last Thursday of each month? Make some friends while having fun and share your love of DIY with the world. It's a win-win! Sound like something you'd be interested in? Just leave a comment at the end of this post with your contact info and a link to your blog. Someone will get back to you right away. We can't wait to meet you!
And now for more thrifty goodness!
Check out what my fellow upcyclers created below!
You are invited to the Inlinkz link party!

<