By Karen Harper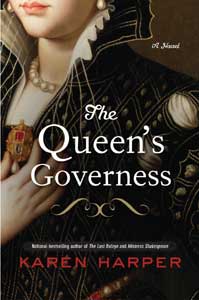 Synopsis from the Author:
I am a life-long, avid anglophile and fan of all things Tudor. (Yes, I even watch The Tudors on Showtime, though I would take me hours to list all the historical inaccuracies in the series.) But in my reading, I always noticed a fascinating personality who seemed to stay in the background but who was, in a way, the power behind Elizabeth's throne—Katherine "Kat" Champernowne Ashley, the queen's governess. And, since Elizabeth lost her mother at age three and did not remember her, Kat was what we would call today the queen's foster mother.
I had included Kat as a secondary character in my QUEEN ELIZABETH I MYSTERY SERIES (9 books, still available in paperback from on-line book sites,) but I wondered about the mystery of Kat's life. And so began years of research to find the real Kat Ashley. She was part of the tumultuous lives not only of Elizabeth Tudor but of her infamous mother, Anne Boleyn. I begin Kat's story with Anne's beheading and backtrack to Kat's early life. As Elizabeth says in the novel, "Anne Boleyn gave me life, but Kat Ashley gave me love."
My thoughts:
After biographies, historical fiction is probably my favorite genre. This book is very well written. There are many tender moments between Kat and Elizabeth, as would be expected of a 3 year old left with only her governess. At times, Elizabeth is allowed to be at court, tutored alongside her brother, Edward. Other times she and her older sister, Mary, are ordered to stay in country houses. The girls, along with their governesses, are completely at the mercy of the whims of their current stepmother. Throughout Elizabeth's tumultuous childhood, Kat is allowed to remain with her. I am not well versed in the history of Elizabeth I and immensely enjoyed this book.
What are you reading?

;-) -Marci