October is shaping up to be crazy-cuckoo-busy. I am hoping some sweet, lovely, intelligent and charming bloggers will pretty-please guest post for me in October.
What am I looking for? Well, the four corner stones of my blog are:
Gardening
Crafts
Sewing
Recipes
Any of those topics would be GREAT for my readers, but I am really open to just about anything that is family friendly. I'd like to receive the post via email in HTML format. I ask that you publish a little something to let your readers know we are hanging out together on the day you go live here. The content can either be new or older than one year. I also ask that if it is new content, please don't post it at your place for at least two weeks after it has been here.
So, what do you get?
Well, my undying gratitude, of course! ;-)
Between GFC and Bloglovin' my humble little blog has over 1,000 followers these days! WOOT WOOT! I can also give you ad space on my side bar for 60 days.
If you are interested, please email me at
Stone (dot) Cottage (dot) Adv @ cox (dot) net
Welcome to Tuesdays with a Twist!
We're your co-hosts:
Each co-host will be sharing her own picks for Features. This gives everyone a better chance of being featured. Be sure to check all of our blogs!
Y'all make choosing features so difficult! There were GOBS of great links last week! Thank you! My feature this week is... (drum roll please) OK. There are two!
These over-the-top CUTE Sweet Pocket Treat Tags
From Artistic Endeavors 101 ! Did I mention these only take 15 minutes?! ;-)
Did you notice this Autumn Garland in the party?
If you've been featured we'd love for you to grab a button.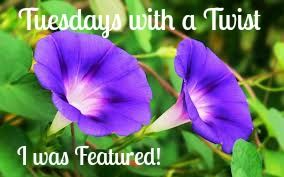 We all love comments! Please hop around and show some love!
The party starts every Tuesday at 7am EST and will continue until Friday at 11:59pm. Feel free to stop back any time and "like" your favorites. Please visit other blogs if you have a moment.
Share older posts as well as new ones. No limit on links!
*Pictures should be your own*
By linking up you give us permission to use these photos
(with proper link backs) in our features.
And now for the party!

;-) -Marci